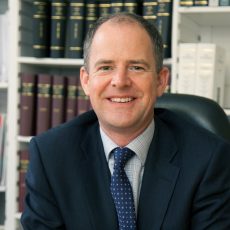 Tom Mitcheson KC
Called to the bar 1996 (England & Wales 1996, Ireland 2021)
Took silk 2014
Silk
Practice Area
Tom has experience in all types of contentious intellectual property work including patents, trademarks, copyright, design right, registered designs, passing off and confidential information. He has been involved in a wide variety of interim applications and trials in the High Court, Court of Appeal and the Supreme Court. He also makes regular appearances in the UK Patent Office & Trade Marks Registry, at the European Patent Office (both Opposition Division and Board of Appeal level) and in the Court of Justice of the European Union.
In 2021 he was called to the Irish Bar.
Reported Cases
Recent and Notable Cases include:
FibroGen v Akebia (law of plausibility/undue burden, anemia treatment, CA)
IPCom v Vodafone (Crown Use, telecoms, CA)
Illumina v MGI (patents for sequencing by synthesis of human genome)
Rhodia v Neo (uncertainty insufficiency, catalysts, CA)
Actavis v ICOS (obviousness, dosage regime, SC)
Eli Lilly v Genentech (antibody technology)
Warner Lambert v Actavis (insufficiency, second medical use, SC)
Sandoz v

Searle

(SPC for Markush formula)
Illumina v

Premaitha

(Non invasive prenatal testing)
Actavis Group v

Eli Lilly

(appropriate test for infringement by equivalents for patent covering pemetrexed/Alimta, SC)

Warner-Lambert

v Actavis (second medical use patent for pain covering Pfizer's Lyrica (pregabalin) product, CA)
Actavis v

Eli Lilly

(plausibility of patent for use of drug to treat ADHD)
Teva v

Gilead

(reference to CJEU on interpretation of Article 3(a) SPC Regulation)

GSK

v Wyeth (patent concerning GSK's Bexsero vaccine for meningitis B)
Servier v

Apotex

(defence of illegality, SC)

Hospira

v Genentech (patents covering trastuzumab/Herceptin, CA)
Cosmetic Warriors (Lush) v

Amazon

(trade mark, adwords, search engine, CA)

Astra Zeneca

v Krka (pharmaceutical patent, damages enquiry foresomeprazole/Nexium patent, CA)

Eli Lilly

v HGS (industrial applicability & SPC for antibody against neutrokine-alpha, SC & CJEU)
Lantana Ltd v

Comptroller-General of Patents

(patentability, CA)
Case C-274/11 Spain v Council, CJEU (enhanced cooperation, Unitary Patent) for

UK Government

Cadbury

v Nestlé (shape mark for four finger KitKat, High Court, CJEU & General Court)
Case T 0612/09 EPO TBA Board 3.3.04 (added matter) for Opponent

Hospira

v Novartis (whether injunction following successful trial for patent relating to zoledronate, CA)
International Stem Cells Corporation (patentability, reference to CJEU in relation to parthenotes) for

Comptroller/UK Government

Eli Lilly & Co

v Janssen Alzheimer Immunotherapy (antibody for Alzheimer's disease)
Case T 0230/08 EPO TBA Board 3.3.04 (antibody patent) for Opponent,

Merck Serono

Schütz v

Werit

2 All E.R. 177 (mechanical patent, meaning of making, SC)
Really Virtual Co Ltd v

Comptroller-General of Patents

[2013] R.P.C. 3 (patentability)
Case C-414/11 Daiichi Sankyo (CJ, effect of TRIPs) for

UK Government

Sudarshan v

Clariant

(pigment polymorph patent)
Wagner v

Earlex

(mechanical patent)

Teva

v AstraZeneca (pharmaceutical formulation patent)
Bayer v Genentech [2013] R.P.C. 28 (patent for antagonists of VEGF)
Case C-482/09 Budějovický Budvar (CJ, trade mark acquiescence) for UK Government
Apimed v

Comptroller General of Patents

(CA, patent for surgical dressings)

Omnipharm

v Merial (patents for flea treatments)

MedImmune

v Novartis [2013] R.P.C. 27 (biotechnology patent)

Eli Lilly

v Neopharma (summary judgment, pharmaceutical patent)
Warner-Lambert v

Teva

(interim injunction, pharmaceutical patent)

Tate & Lyle

v Roquette [2011] FSR 3 (chemical patent, CA)
Medeva's Patents [2012] R.P.C. 26 (SPC, CA & CJ Reference, for

Comptroller/UK Government

)
Siemens v

Seagate

(N. Ireland, patent action, hard disk technology)

Teva

v Merck [2010] FSR 17 (pharmaceutical patent, CA)

Hospira

v Amgen (pharmaceutical patent)

CoreValve

v Edwards [2010] FSR 34 (patent action, heart valve technology, CA)

L'Oreal

v eBay [2009] RPC 21 (trademark dispute, CJ Reference)

GSK

v Abbott (contractual & patent dispute)
Lundbeck v

Teva

[2009] RPC 13 (House of Lords, scope of sufficiency)

Sandoz

v Napp [2009] RPC 11 (patent action, controlled release formulation)

GSK

v Sanofi (vaccine patent, EPO Opposition & Appeal)
Leo v

Sandoz

(interim injunction, patent action)
Knorr-Bremse v

Haldex

[2008] FSR 30 (conflict of laws)
UK Channel Management v

E! Entertainment

[2008] FSR 5 (survey evidence in trademark dispute)
Luxim v

Ceravision

[2007] RPC 33 (patent entitlement dispute)

Pozzoli

v BDMO [2007] FSR 37 (patent action, CA)

USP

v LGH [2006] FSR 6 (damages inquiry in copyright action, CA)

Mayne

v Debiopharm [2006] FSR 37 (patent action – platinum based anti-cancer drug)
Ultraframe v

Eurocell

[2005] RPC 7 & 36 (patent & design right, CA)
GSK v

Apotex

[2003] FSR 30, [2005] FSR 44 [2007] Ch 71 (damages inquiry on crossundertaking in patent action, CA)
Agilent v

Waters

(damages inquiry in patent action)
Dyson v

Strutt

(confidential information in employment dispute)

Mayne

v Teva (patent infringement – pharmaceutical formulation)
NIC's Licence of Right [2005] RPC 1 (design right)
Sir Robert McAlpine v

Alfred McAlpine

[2004] RPC 36 (passing off)

Buchanan

v Alba [2004] RPC 34 (improvements clause, HL)
Rockwater v

Coflexip

[2004] RPC 46 (patent infringement, CA)

THQ/JAKKS

v World Wildlife Fund [2004] FSR 10 (contractual dispute)

Arsenal

v Reed [2003] RPC 9 & 39 (trademark – ECJ reference & CA)
Collag v.

Merck

[2003] FSR 13 (confidential information)

Coca-Cola

v. Mabe (trademark & passing off) [2002] FSR 47
Apple Computer's Design Application [2002] FSR 8

3M

v Rennicks Ltd [2000] FSR 727 (stay pending EPO proceedings)

Magic Ball

Trade Mark [2000] RPC 439 (non-use)

Kimberly-Clark

v Procter & Gamble [2000] RPC 422 CA
Norowzian v Arks [2000] FSR 363 (copyright in Guinness television advert, CA)
Professional Memberships
Intellectual Property Bar Association; Chancery Bar Association; Bar European Group.
Publications
Wang P-C, Vancura A, Mitcheson TGM, and Kuret J (1992), "Two genes in Saccaromyces cerevisiae Encode a Membrane-Bound Form of Casein Kinase-1", Molecular Biology of the Cell 3, 275-286.
"Terrell on the Law of Patents" (19th edition 2020).
Appointments
Appointed Person hearing appeals from the Trade Mark Registry 2016-
Standing Counsel to the Comptroller General for Patents Designs and Trade Marks 2009-2014
Education
Baring Foundation Scholarship 1990-1991. Spent 9 months living with Nobel Prize-winner Dr James Watson and working as a research assistant at Cold
Spring Harbor Laboratory, Long Island, USA.
Trinity College, Cambridge (1994 MA First Class Hons Natural Sciences).
City University (1994 Diploma in Law CPE – Distinction).
Inns of Court School of Law & Major Scholar, Inner Temple (1996)
Privacy Notice
Tom Mitcheson's privacy notice can be found here.
 'Tom is a go-to barrister on technically difficult life sciences cases. He has a very good background in the life sciences and is able to distil cases into simple concepts easily and speedily, he provides cutting edge advice and his advocacy is smooth like butter, and he is very credible before the bench.'

LEGAL 500, 2024
"Thomas Mitcheson KC is one of the best KCs around. He is exceptionally smart, he can do any subject matter and has the nicest manner in the court."

"Thomas Mitcheson is a strong performer who has brilliant tactics and is really good with judges and clients alike. He understands clients' commercial needs and is really creative."

"He's a fabulous barrister who thinks outside the box."

Chambers & Partners, 2023
'Tom is always meticulously prepared for hearings. In particular, he works hard to anticipate the most difficult questions from the bench.  He is also good with clients – personable but not afraid to tell it as it is – he presents an excellent shopfront for the English IP bar.'

Legal 500, 2023
More
"Silk of the Year IP/IT"

Chambers Bar Awards 2018
"IP, IT & Media Silk of the Year"

Legal 500 UK Bar Awards 2017
'Tom is extremely bright, has an excellent ability to get to the nub of a case and is a skilful advocate, making points clearly and powerfully but with refreshing brevity. He has also carved out a really strong practice in Supreme Court appeals.'

Legal 500 2020, IP, Leading Silks
A very popular silk recommended for his calm demeanour, excellent client service and strong cross-examination skills. He is noted for his handling of patent and trade mark litigation, including oppositions and infringement claims, and is active in appellate work at the very cutting edge of the law. He has notable experience acting for life sciences companies in supplementary protection certificate disputes.

Strengths: "A quiet advocate but one the court listens to." "The quality of everything he does is exceptional." "His advocacy is excellent because, no matter the argument, he makes it so clear and easy for the judges that he always stands out."

Chambers & Partners 2020, IP, Band 1
"…impresses everyone who crosses his path. "He is good for unusual trademark cases, especially those involving extended passing off and geographical indications.""

World Trade Mark Review - Top Trade Mark Professionals 2017