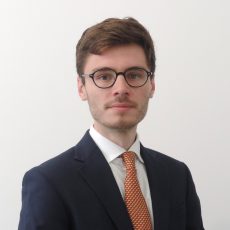 Thomas Lunt
Called to the bar 2018
Junior
PRACTICE AREAS
All aspects of Intellectual Property law, including patents, SPCs, trade marks, passing off, copyright, designs, confidential information, and contractual disputes involving intellectual property or technical subject matter.
CASE EXPERIENCE
Thomas joined Chambers in September 2020 upon completion of his pupillage. He is building a practice across all areas of intellectual property, and has been instructed in matters involving patents, trade marks, copyright, and confidential information. He has experience of a broad range of disputes before the UKIPO, the IPEC, the High Court, the Court of Appeal, the CJEU and arbitral tribunals.
Selected cases:
Patents
Akebia v Fibrogen, Astellas [2020] EWHC 866 (Pat) – multi-patent pharmaceutical action concerning the treatment of anaemia with small molecule inhibitors
Edwards Lifesciences Corp v Meril GmbH [2021] EWHC 761 (Pat) – prosthetic aortic valve medical device litigation involving technical trials and engaging the public interest defence
Dr Reddy's, Actavis, NHS England & ors v Warner-Lambert, Pfizer (ongoing) – damages inquiry emanating from long-running pregabalin litigation
AutoStore Technology v Ocado Group PLC & ors (ongoing) – automated robotic storage and retrieval technology in patent infringement and entitlement actions
Don-Bur v Fluid Power – mechanical patent dispute in IPEC concerning trailer design
Trade marks and soft IP
Medical devices company v Medical devices company – trade mark and passing off dispute relating to COVID-19 medical diagnostic tests
Medical devices company v Medical devices company – comparative advertising trade mark dispute concerning sutures
Songtradr v Ditto, Bluebox, Block8 (ongoing) – dispute concerning copyright and confidential information in blockchain software relating to music licensing, including issues of relative confidentiality and springboard injunctive relief
Various ongoing oppositions before the UKIPO
Selected cases observed or contributed to as a pupil:
Patents
Conversant v Huawei, ZTE – telecommunications patents action in a series of technical trials
Anan Kasei, Rhodia v Molycorp – assisted in drafting points of claim for a damages enquiry
Lufthansa v Astronics – assisted in preparing the trial skeleton in this patent action concerning plug sockets and electronic safety features
Philips v Asustek – joined telecoms appeals before the Court of Appeal
Mitsubishi v Archos, Xiaomi – jurisdictional aspects of a FRAND dispute
Pan-EU coordination project to clear the way for the launch of an antibody product for osteoarthritis
Arbitration relating to antibodies for rheumatoid arthritis
Trade marks and soft IP
Sky v SkyKick – assisted in preparation for the form of order hearing involving a qualified injunction
Glaxo v Sandoz – assisted in preparation for hearing before UKIPO regarding issue estoppels arising from related High Court proceedings concerning the colour purple on inhalers
Glaxo v Glenmark – trade mark and passing off dispute concerning the 3D shape mark for Glaxo's inhalers
Duracell v Baruch – trade mark dispute concerning parallel imports and re-packaged goods
Apple v Lee – trade mark and design matter relating to counterfeit goods
Foundation for the Protection of the Traditional Cheese of Cyprus named Halloumi – appeal from EUIPO before the CJEU relating to collective marks
EDUCATION
2019-2020: 12-month pupillage at Three New Square to Miles Copeland, Jeremy Heald, Joe Delaney, Stuart
Baran and Geoff Pritchard
2017-2018: BPTC at BPP Birmingham: Outstanding; 1st in cohort
2016-2017: GDL at BPP Birmingham: Distinction
2012-2016: MChem Chemistry at Lincoln College, Oxford: 1st
class. Part-II thesis in soft chemistry of solid- state crystalline compounds from the cerium oxychalcogenide series
AWARDS & SCHOLARSHIPS
Lord Denning and Lord Brougham scholarships, Hardwicke award, from Lincoln's Inn
College Scholar, L H Martin prize, and Sidgwick Exhibitioner from Lincoln College, Oxford
FURTHER EXPERIENCE
In 2018-2019, Thomas worked at Carpmaels & Ransford LLP. He was involved with a pharmaceutical patents matter relating to anti-CGRP antibodies for the treatment of migraine.