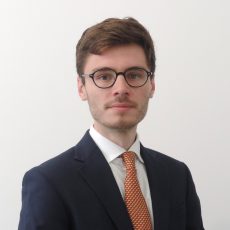 Thomas Lunt
Called to the bar 2018
Junior
PRACTICE AREAS
Thomas' practice encompasses all areas in intellectual property. He has been instructed in matters involving patents and SPCs, trade marks, passing off, copyright, and confidential information.
PATENTS
High Court
Advanced Cell Diagnostics v Molecular Instruments (ongoing) – Patent infringement and revocation action concerning fluorescence in situ hybridisation (FISH) technology.
Pfizer v GSK (ongoing) – Patent infringement and revocation action concerning a vaccine for respiratory syncytial virus.
Accord v Astellas (ongoing) – Patent and SPC infringement and revocation action concerning the small molecule anti-androgen enzalutamide in the treatment of prostate cancer.
AutoStore Technology v Ocado Group & ors [2023] EWHC 716 (Pat) – Patent infringement and entitlement actions concerning automated robotic storage and retrieval technology, giving rise to novel conflicts of law issues under Rome II, the public availability of prior disclosures made in terms of confidence, and infringement by equivalence.
R2 v Intel – Patent action concerning Intel's processor chips which incorporate fully integrated voltage regulators. Acted in a successful expedition application to a September trial.
Ericsson v Apple – Multi-jurisdictional telecoms case concerning 4G and 5G systems and FRAND issues.
Sandoz v Biogen (ongoing) – Patent action concerning a biosimilar antibody, natalizumab, for treatment of relapse remitting multiple sclerosis. Acted in successful applications to expedite the trial and resist a stay of UK proceedings pending parallel EPO opposition.
Pfizer v Amgen  – Patent revocation action relating to bispecific BCMAxCD3 antibodies for the treatment of multiple myeloma. Acted in a successful application to list the trial prior to the CMC.
Sandoz, Teva v Bristol-Myers Squibb [2022] EWHC 822 (Pat) – Pharmaceutical patents action concerning the blockbuster anticoagulant apixaban giving rise to issues of plausibility and the sufficiency of product per se claims.
Dr Reddy's, Actavis, NHS England & ors v Warner-Lambert, Pfizer [2021] EWHC 2182 (Ch) (ongoing) – High-profile damages inquiry emanating from long-running pregabalin litigation.
Advanced Bionics v Med-El [2021] EWHC 2415 (Pat) – A successful expedition application for cochlear implant patent litigation proceeding on the Shorter Trials Scheme.
Edwards Lifesciences Corp v Meril GmbH [2021] EWHC 761 (Pat) – Prosthetic aortic valve medical device litigation.
Akebia v Fibrogen, Astellas [2020] EWHC 866 (Pat) – Multi-patent pharmaceutical action concerning the treatment of anaemia with small molecule inhibitors raising issues of plausibility and construction of purpose-limited claims.
IPEC
Kohler Mira v Triton (ongoing) – Patent infringement dispute in IPEC concerning electrical showers.
Don-Bur v Fluid Power – Mechanical patent dispute in IPEC concerning trailer design.
TRADE MARKS AND SOFT IP
Trade marks
Admiral v Admiral Markets (ongoing) – Trade mark and contract dispute concerning the Admiral brand.
Prime Online Ltd v Amazon Technologies, Inc (ongoing) ­– Dispute concerning the trade name PRIME GAMING, with parallel proceedings in the IPO involving the bad faith ground.
Virgin v Heineken – Trade mark dispute concerning the use of VIRGIN in relation to low- or no-alcohol beer.
William Grant v Lidl [2021] CSOH 55 – Assisted in Scottish litigation concerning the Hendrick's gin brand.
Rolex v Titan Black & ors (IL-2021-000096) – Trade mark infringement claim concerning customised Rolex watches and raising issues of exhaustion of rights.
Millington v Wolf 1834 Ltd & or (IP-2022-000007) – Trade mark infringement dispute concerning watch winders in IPEC.
Medical devices company v Medical devices company – Trade mark and passing off dispute relating to COVID-19 medical diagnostic tests.
Medical devices company v Medical devices company – Comparative advertising trade mark dispute concerning sutures.
CORNERSTONE (O/096/22) – Appeal to the Appointed Person for this trade mark application relating to financial and other services.
Various ongoing oppositions before the UKIPO
Other intellectual property rights
Songtradr v Ditto, Bluebox, Block8 – Dispute concerning copyright and confidential information in blockchain software relating to music licensing, including issues of relative confidentiality and springboard injunctive relief.
EDUCATION
2019-2020: 12-month pupillage at Three New Square to Miles Copeland, Jeremy Heald, Joe Delaney, Stuart Baran and Geoff Pritchard
2017-2018: BPTC at BPP Birmingham: Outstanding; 1st in cohort
2016-2017: GDL at BPP Birmingham: Distinction
2012-2016: MChem Chemistry at Lincoln College, Oxford: 1st
class. Part-II thesis in soft chemistry of solid-state crystalline compounds from the cerium oxychalcogenide series
AWARDS & SCHOLARSHIPS
Lord Denning and Lord Brougham scholarships, Hardwicke award, from Lincoln's Inn
College Scholar, L H Martin prize, and Sidgwick Exhibition from Lincoln College, Oxford
FURTHER EXPERIENCE
In 2018-2019, Thomas worked at Carpmaels & Ransford LLP. He was involved with a pharmaceutical patents matter relating to anti-CGRP antibodies for the treatment of migraine.
PRIVACY NOTICE
Thomas Lunt's privacy notice can be found here.
"He is a truly excellent junior, extremely collaborative, gets into the detail of his matters, and provides great client service. Thomas is not just a future star, he is a star now and doubtlessly has a very bright future ahead of him."

Chambers & Partners, 2024
"Thomas is a junior barrister who is experienced beyond his years. He is diligent and keen and one to watch going forward in terms of his ability. He is a junior junior who is operating at a mid to senior level."

Chambers & Partners, 2024
"Thomas Lunt is a star for the future. He is hard-working and punching well above his qualification. He throws himself into new matters and shows an excellent grip on technical and strategic issues."

Chambers & Partners, 2024
More
"Thomas is razor-sharp, enthusiastic, and works hard. He practises with a degree of competence far beyond his year."

LEGAL 500, 2024
"Extremely hardworking and intellectually bright. Fastens onto details, and knows the law and procedure incredibly well. One of the sharpest juniors around, and his preparation and delivery are impressive – a future star of the IP bar."

LEGAL 500, 2023