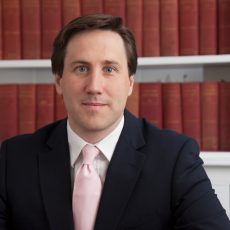 Dominic Hughes
Called to the bar 2001
Junior
Practice Areas
All aspects of intellectual property law – including patents, trade marks, passing off, copyright, designs and confidential information.
Dominic specialises in running his own cases without a leader – for example he has represented clients without a leader in each of the following Courts and tribunals: the Court of Appeal, the High Court, the IPEC, the County Courts and the Intellectual Property Office (both at first instance and on appeal) and the European Union Intellectual Property Office Board of Appeal.
From 2017-2022, Dominic was appointed to the Attorney General's B Panel of Junior Counsel to the Crown.
Dominic also undertakes work pro bono in suitable cases.
Education
D.PHIL. AT UNIVERSITY OF OXFORD, JESUS COLLEGE
Qualification: D.Phil. in Physical Chemistry
Awards: Old Members Graduate Scholarship and Shell Research Studentship.
BSc AT UNIVERSITY COLLEGE, LONDON
Qualification: BSc in Chemistry (1st class honours)
Awards: Neil Sharp Prize; Christopher Ingold Prize (twice) and ERASMUS award.
BAR COURSE AT INNS OF COURT SCHOOL OF LAW
Graded: Very Competent
Awards: Bedingfield Scholarship; Barstow Scholarship and CCH Editions Prize.
CPE AT CITY UNIVERSITY
Graded: Distinction
Awards: Gray's Inn City Prize and Gray's Inn Entrance Award.
Selected Cases
Société des Produits Nestlé S.A. -and- Cadbury UK Ltd -and- Intervention by The Comptroller-General of Patents, Designs and Trade Marks [2022] EWHC 1671 (Ch); [2022] ETMR 43 (High Court (on appeal); trade marks)
DRS Global v Sky (2021) (IPEC; patents)
Feria de Zaragoza v Worldwide Business Research (EUIPO Board of Appeal, R77/2020-1)
Castelli Trade Mark (O/475/20)
Avita Trade Mark (O/208/20)
Smoozy Suzy v First Grade (EUIPO Board of Appeal, R1953/2018-5)
Don and Low v Cromar Building Products Ltd (2018) (High Court & IPEC – transfer; patents)
easyGroup Ltd v [two defendants] (2018) (IPEC; trade marks; procedure)
Chemours International Operations Sarl v Arkema France (2017) (High Court; patents)
Epshtein v Comptroller-General [2017] RPC 11; [2016] EWHC 1511 (Ch) (High Court (on Appeal); Patents; validity)
Laboratoires Théa v Altacor (BLEPHACARE Trade Mark) O/310/15 and O/313/15 (TM Registry; opposition)
VPG Systems v Air-Weigh [2016] FSR 4; [2015] EWHC 1862 (IPEC) (IPEC; trial; patent infringement and validity)
VPG Systems v Air-Weigh [2015] EWHC 1296 (IPEC) (IPEC; patents; procedure)
William Mark Corp & Wow! Stuff v Gift House [2015] EWCA Civ 521 (Court of Appeal; patents; permission)
Vertical v Poleplus [2015] EWHC 841 (IPEC) (IPEC; trial; passing off; joint tortfeasance; vicarious liability)
William Mark & Wow! Stuff v Gift House [2014] EWHC 2845 (IPEC) (IPEC; trial; patent infringement and validity; case also included registered design validity and infringement and threats)
Victor Lilley v Euromoney & Metal Bulletin [2014] EWHC 2364 (Ch) (High Court; copyright; procedure)
Catalina Software v Professional IT (Logistics) (2014; IPEC; copyright in computer software; procedure)
Wallenius v Brightwater [2012] EWHC 3810 (Pat) (High Court; patents; Brupat orders)
Eli Lilly v Gurnos [2012] EWHC 3661 (Ch) (High Court; patents; procedure)
Eli Lilly v Gurnos [2012] EWHC 2297 (Ch) (High Court; patents; procedure)
H. Lundbeck v Infosint [2011] RPC 23; [2011] EWHC 907 (High Court; patent infringement and validity; trial)
Powawalker Trade Mark (O/411/10) (TM Registry; trade marks; opposition)
Roja Dove Trade Mark (O/016/10) (Appointed Person; trade marks; opposition; appeal)
Wilson v Yahoo (2008; Court of Appeal; trade mark; costs; procedure; acting pro bono)
Handi-Craft v B Free World [2008] EWCA Civ 868 (Court of Appeal; patent validity; appeal)
Handi-Craft v B Free World [2008] EWCA Civ 1008 (Court of Appeal; copyright; costs; permission)
Care Monitoring v Burall [2008] EWPCC 28 (PCC; registered and unregistered designs; trial)
Eli Lilly v Neopharma & Neolab [2008] FSR 25; [2008] EWHC 415 (Ch) (High Court; patents; disclosure)
Eli Lilly v 8PM Chemist (High Court; trade marks; interim procedure)
Procter & Gamble v Reckitt Benckiser The Times (17th October 2007); [2008] FSR 8; [2007] EWCA Civ 936 (Court of Appeal; registered community designs – infringement and validity; appeal)
Handi-Craft v B Free World [2007] EWHC B10 (High Court; two week trial covering 5 causes of action (patents, passing off, copyright, trade marks and conspiracy))
Handi-Craft v B Free World (Nos. 2, 3 and 4) (High Court; consequential relief)
Procter & Gamble v Reckitt Benckiser [2007] FSR 13; [2006] EWHC 3154 (Ch) (High Court; registered community designs – infringement and validity; trial)
Sandisk v Koninklijke Philips (High Court; patent infringement, validity and essentiality; procedure)
Markem v Zipher [2005] RPC 31; [2005] EWCA Civ 267 (Court of Appeal; patent entitlement and breach of confidence; appeal)
Markem v Zipher (No. 3) [2005] RPC 3 (High Court; patents; relief)
Markem v Zipher (No. 2) [2004] RPC 11 (High Court; patents; judgments)
Markem v Zipher [2004] RPC 10 (High Court; patents; entitlement; trial)
Liaoning Light v Yu (O/71/04) (TM Registry; trade marks; validity)
Baker Hughes v Halliburton [2002] EWHC 2524 (High Court; patent amendment)
Professional Links
Bar Pro Bono Unit
Intellectual Property Bar Association
Chancery Bar Association
Lawyers' Christian Fellowship
'Dominic has a very good grasp of the detail and technical aspects of cases and he reads around the technology in question so that he understands it and the market in which it is used. He is very good with clients and explains matters clearly, and he has excellent commercial awareness and always has an eye on the clients' objectives.'

Legal 500, 2024
'Dominic is a clear and concise lateral thinker, who is often able to bring a fresh perspective to a dispute.'

LEGAL 500, 2023
"He is extremely thorough, with meticulous attention to detail, and is always willing to go the extra mile."

Legal 500, 2021
More
"Particularly good at sizing up an opponent and anticipating the other side's moves."

Legal 500, 2020
"He is a hugely competent and incisive thinker that offers crystal clear advice"

Legal 500, 2019
"He is knowledgeable, provides thorough advice and is always prepared to go the extra mile"

Legal 500, 2018
"He is responsive and produces high-quality work"

Legal 500, 2017
"very user-friendly … with great attention to detail"

Legal 500, 2016
"amazingly knowledgeable"

Legal 500, 2015
"We cannot express too highly the appreciation of both our client and us for a quite magnificent piece of work by Dr Hughes."

Unsolicited letter from instructing solicitors, 2015