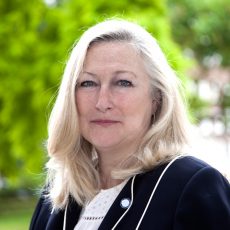 Denise McFarland
Called to the bar 1987
Junior
Practice Area
Patent, trade mark/passing off, copyright, designs,  data-base rights, media, music and publishing licenses and commercial arrangements, due diligence in relation to IPRs  in the context of probate, trusts and M & As, confidential information, and all other aspects of intellectual property; information technology and exploitation.
Professionally trained and qualified and highly experienced Mediator and Evaluative Neutral, specialising in commercial disputes (with or without IP aspects) in the UK and global disputes.
Clients, commercial sectors and industries in which she has worked extensively in contentious and non-contentious matters covered include:
Arts, Antiques, Architects, Airlines, Academic outfitters
Boats, Beer & Beverages , Boots & Shoes, Books,
Contact Lens, CAD systems, Concrete, Character-rights, Cartoons, Cars (Luxury & Utilitarian) and parts and accessories therefor
Diet & Nutrition, Designers ( Arts, Haute Couture & Landscape), Dog Food, Dentistry & Dental equipment
Earth Moving Equipment, Estate Agency, Electrical Appliances, Early Stage investment & Venture Capital, Evaluations, Entitlement, European Directives
Farm Machinery, Financial Charts & Indexes, Foodstuffs, Footwear, Family disputes, Fabrics, Floristry
Garden Statutory & Equipment, Genomes, Gas-pipes, Greetings cards
Hotels, Houses, Haute Couture, Horse Race Breeding Charts
Inter-Continental Ballistic Weapons, Ice Rinks, Indian Food & Restaurants
Jewellery, Jewish Foods ( working with Beth Din), Jazz, Jet propulsion
Kitchen designs, Keel designs (boats) , Knitting patterns, Kitten-cabins
Lamps & Lighting, Life-saving equipment, Lotteries, Lavatories
Music ( performers, production and property) MOD, Marine technology, Magazines,
Nation state ownership of IP, Nominet dispute resolution panel, Naval Engineering, National Government, Negotiations
Operatic Works, On-line marketing, Optical devices, Orphan works
Pipe Laying , Publishing, Ponies ( & Horses) Punchbags, Packaging, Photography
Quality Marks, Quarrying & Drilling Equipment
Restaurants & Catering, Radio Broadcasters, Rice, Roses
Spices, Soap, Surgical devices, Social media, Sculpture, Spas, Saddlery. Sports, Sailing yachts, Signage
Terra-Forming, Toys & Games, Television Broadcasters, Trucks,
Universities, Underwear ( fashion, spots and special needs), Undersea Drilling,
Veterinary Medical Devices, Vans, Vacuum cleaners, Varnish & Paint, Vestments ( Ecclesiastical & Educational)
Wine and Spirits, WCs, Wood treatment, Weather-monitors, Weed-killers, Websites, Wallpaper
X-Rays and Lithotripters, Xenon headlights
Yellow-Pages Directory, Yoga mats and clothing, Yoghurt & Probiotics
Zero-Emissions Devices, Zips, Zoning & Zone Indicators
Denise's practice covers a huge range of areas and subject matters. She has dealt with clients of high profile and is noted for discretion and sensitive handling of clients and team members. Her clerks would be happy to provide more details of her familiarity and experience in your or your client's particular field, or area of endeavour or interest.
Denise has huge advocacy experience acting for parties before the UK Courts and in EU Courts and tribunals, including; the High Court of England and Wales (Court of Appeal and Supreme Court)   the Intellectual Property Enterprise Court, or IPEC, the UK Intellectual Property Office, the Company Names Tribunal, the EU Intellectual Property Office, the EU Patent Office and the General Court of the European Union (Luxembourg) and appeals to the Court of Justice. She has also appeared before both the legal and technical Boards of Appeal and the Opposition Division of the EPO.
Higher Education
New Hall (now re-named Murray Edwards College) Cambridge University 1983-1986. MA
Inner Temple 1986-1987 – HRH Prince Phillip Scholarship
Denise has always been professionally known as Denise McFarland, but her full name is Denise McFarland-Cruickshank.
Client Base
A Selection of some of the more well- known client names and /or trading names or marks for and with whom Denise has worked
Agatha Christie (dcd. – the Estate of) Armani (Giorgio), Associated Newspapers Limited, AMEX, Arab Horse Society, Astra Zeneca, Airstream Corp.
Bad Company , BT, BP, BBC, British Airport Authority, British Diabetic Assoc. Britax , BAE Systems, Body Shop, BOC, Babyliss, Bally, BUPA, Babycham, Bird's Eye, Blackberry
Channel 4, Colefax & Fowler, Cadbury's ("Flake") Classic FM, Cambridge Satchel, CIPA, Colt Car Company, Conan the Barbarian, Clockwork Orange
Dizzee Rascal, Dunlop, DKH, Dine, David John King (dcd. – the Estate of) Danone
Ede & Ravenscroft, EBay, Exxon Mobil, Estee Lauder, Enid Blyton (dcd.)
Frankie Goes to Hollywood (Holly Johnson), Ford Motor Co. Fuji Film
Guess? , G-Star, Gillette, Glaxo, Granada TV,
HRH Princess Diana Memorial Fund, Hasbro, Halewood International, Hikari Miso Co.
ICE, IBM, ICI, Indulgence,
JCB, Jimi Hendrix (dcd), Jaffa Cakes, Jaguar Cars, Jo Malone
Kimberley Clarke, Kodak, King Curry
Lockheed Martin , LIBOR, Lastminute.com, Lava Lamps, LINK Network, Ladybird, Lucas Industries, Lidl
MCA Music, MOD, Minimax, Motorola, Mister Men, McCarthy Stone, Marconi, Moulin Rouge, Marilyn Monroe (dcd.) Metro Bank
Nike, Nestle, Nokia, Nelson Mandela Fund, The Nolans (Denise Nolan), News International Ltd
One Direction, Overfinch, O2,
Pink Lady Apples Pedigree Pet Foods, Proctor & Gamble, Penguin Books, Planet Hollywood, Professional Golfers Association (PGA), Pizza Express
Q-Style, Q-Tel
Rubettes (Alan Williams) , Rolls Royce, Ritz Hotel (London) ,The Royal British Legion, Royal Berkshire Polo Club, Royal Air Force &  Royal Navy, Renault, Roper Rhodes,
Spice Girls, Superdry, Shell, Siemens, Sam Smiths, Shirin Guild, Stihl, Stannah Stairlifts
Tate & Lyle, Trillium Tentsile, Tiger Aspect
Unilever, Universal Pictures & Universal Music, United Biscuits Universities of Cambridge, Oxford, Manchester and many other universities in the UK and abroad.
Van Morrison (George Ivan Morrison) Victoria's Secret, Virgin Atlantic , Vibe Media
Warner Bros. Wella Corp.
Xafinity, Xscape
YELL / Yellow Pages, Yakult
Zyro, Zimmer (Hans)
Alternative Dispute Resolution
Mediations / Early Neutral Evaluations / Arbitrations/ IP Audits
Since non-litigation methods of conflict resolution have become an integral and essential element of civil law practice Denise has a unique experience and diverse skill set which has been the basis of her well recognised and successful track record in alternate dispute resolution and non-litigation conflict management. She is CEDR trained and certified and has a broad range of IP and general commercial / contract/ media experience. Denise has been appointed by Nominet to deal with their disputes, and she is currently nominated by several large organisations as their first choice mediator for all of their internal and external needs.
"All members of the legal profession who conduct litigation should now routinely consider with their clients whether their disputes are suitable for ADR" (Halsey v Milton Keynes General NHS Trust 11th May 2004)
Some of the feedback she has received from clients and practitioners in relation to this area of her work includes the following:
"Mark and I would like to thank you for your excellent mediation skills and for helping the parties reach a good result on the day. We hope to have the opportunity to work with you another time soon."
"Denise really seemed to understand what was driving both parties, and carefully untangled the mess."
"It is great to find a mediator that will go the extra mile, and really shared time well, and listened to everybody on our team. Thanks so much."
"Denise's observations and proposals tabled were innovative and unusual. They appealed to both sides which was no mean feat. I'll be using some of them myself in future!"
"Thank you to Miss McFarland and her clerking team for staying so late to get the ink dry on the paper; our client is truly delighted to have this all squared away now. Well worth the evaluation process."
"Top Job! Thanks a lot".
"We found Denise to be knowledgeable and pragmatic as well as approachable and with great personal attention to the parties' needs hopes and issues. She had really prepared the papers in depth too. We'd appoint her again and have no hesitation in recommending her to others".
 Due to confidentiality issues and the sensitivities of much of this area of her work, case names and parties' details are withheld but if needed, further details can be obtained from her clerks. Including references if required.
Professional & Other Memberships and Roles
IP Bar Association, Chancery Bar Association, Women's Bar Association
Chartered Institute of Trade Mark Attorneys (CITMA)

Member of CITMA and contributor to the CITMA Review
Appointed as an examiner for professional trade mark attorney examinations between 1991 and 1996

Chartered Institute of Patent Attorneys (CIPA)

Member of CIPA
From 2001 till 2007 sat as an adjudicating member of the CIPA Disciplinary Panel

Published author (Fiction)
Trained Mentor and Equestrian Instructor
Charity Trustee (of UK and International Charities)
Interests
Equine and all country pursuits. Bar Theatrical Society. Travelling and hill walking. Various charitable and fund raising interests including in particular the Rorke's Drift & KwaZuluNatal Educational Project, The Prosthetic Outreach Foundation and the Mayhew Animal Home.
PRIVACY NOTICE
Denise McFarland's privacy notice can be found here.
"Denise McFarland is a very safe pair of hands. She is dedicated and advises clients well and clearly. She is very good on her feet, appreciates the nuances of advocacy and knowing when to push points and when a judge is not with her."

"She is my go-to expert for all IP-related matters. She is absolutely fantastic. She has a rare skill of not just looking at clients' issues but having an insight into their commercial operations."

"Denise leaves no stone unturned in her preparation and is tenacious when advocating. She is very focused, realistic and clear in her arguments. When represented by Denise, clients feel they have the best barrister for the job on their side."

CHAMBERS & PARTNERS, 2024
'Denise communicates clearly with clients and is a compelling advocate who builds a logical and persuasive case.'

LEGAL 500, 2024
"She is an impressive expert, her drafting work is fantastic, and her advice is first rate. She also has superb client manner as she takes the time to understand the business drivers of the case."

"She is very effective on her feet in her advocacyy; she has got the ability to take the court with her and doesn't simply focus on the legal arguments."

"Denise is a strong and tenacious advocate. She is methodical and approachable for advice, and her advice is sensible and commercial."

CHAMBERS & PARTNERS, 2023
More
'Denise is an intellectual powerhouse. Her knowledge is phenomenal, but she is able to convey that knowledge in a way that can be readily understood by clients; and her advice is clear and commercially focused on the outcomes to be achieved. Denise is also excellent at developing strategy.'

Legal 500, 2023
Denise McFarland is known for her client-facing skills and responsiveness, as well as her courtroom prowess. She is noted for her work in anti-counterfeiting actions and trade mark infringement claims. She has additional experience advising on patent invalidation actions and mediations. Other areas of expertise include parallel imports.

Strengths: "She is a fantastic advocate."

"She is able to translate complex legal issues in a way that is commercial and relatable to clients. Her level of commercial acumen on how big business operates and her ability to think outside the remit of a dispute make her an impressive barrister."

Chambers & Partners 2022
"Denise is incredibly astute and commercially focused with her advice. A master tactician. She has a measured advocacy style which is effective, and thinks quickly on her feet."

The "tenacious" Denise McFarland stands out for her "encyclopedic knowledge of trade mark law, and recently acted for Unilever in a successful application to register the trade mark of "Wonder Mum" …opposed by DC Comics, which claimed that Unilever's trade mark was an infringement of its "Wonder Woman" trade mark".

Legal 500 2020, Intellectual Property
" A strong and persuasive advocate able to digest complex subject matter and formulate comprehensive, pragmatic advice with impressive efficiency". 

Legal 500 2019, Intellectual Property
Known for her client-facing skills and responsiveness, as well as her courtroom skill. She is noted for her work in anti-counterfeiting actions and trade mark infringement claims. She has additional experience advising on patent invalidation actions and mediations, and has recently been instructed in IP litigation with criminal liability aspects.

Strengths: "She is very bright, very capable and very responsive." "She has an impressive eye for strategy and is highly practical."

Recent work: Instructed in a community trade mark dispute between Polo Ralph Lauren and the Royal County of Berkshire Polo Club concerning use of the word 'Polo'.

A "natural advocate," McFarland receives consistent praise for her client-facing skills and responsiveness as well as her courtroom skill. She is noted for her work in anti-counterfeiting actions and trade mark infringement claims.

She has additional experience advising on patent invalidation actions and mediations.

Strengths: "She is super-smart, very strategic and really knows her way around the system." "She is hugely knowledgeable and clients really love her."

Chambers & Partners 2016 & 2017
"She is highly practical and has an impressive eye for strategy.'

Legal 500 2017, Intellectual Property
"She is extremely conscientious, creative and always goes the extra mile.'

Legal 500 2016, Intellectual Property
"She is excellent too – Superb with clients, practical and commercial"

WTR – World Trade Mark Review 2017