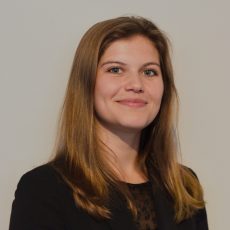 Alice Hart
Called to the bar 2018
Junior
Practice Areas
All aspects of Intellectual Property law, including patents, SPCs, trade marks, passing off, copyright, designs, confidential information and contractual disputes involving intellectual property or technical subject matter.
Cases
Alice's practice spans all areas of intellectual property, and she has been instructed in matters involving patents, SPCs, trade marks, passing off, copyright, design rights, confidential information and a number of contractual disputes, involving parties from an array of industries.
Selected cases:
Patents
Sandoz v Bristol-Myers Squibb (ongoing) – patent revocation actions relating to the anticoagulant drug apixaban (plausibility, lack of technical contribution, AgrEvo obviousness; G2/21 Sumitomo): [2021] EWHC 1123 (Pat); [2022] EWHC 822 (Pat); [2022] EWHC 1279 (Pat); [2023] EWCA Civ 472.
Pfizer, BioNTech v Moderna; Pfizer, BioNTech v CureVac (ongoing) – two patent infringement and revocation actions concerning Pfizer/BioNTech's COVID-19 mRNA vaccine, Comirnaty.
Eli Lilly v Teva (ongoing) – action concerning quantum of damages owed to Lilly under an agreement with Teva arising from Teva's at-risk launch of generic pemetrexed in Germany: [2023] EWHC 68 (Ch).
Siemens v GE – patent infringement and revocation action relating to bearings in wind turbines (novelty, obviousness, Regeneron-type insufficiency, prosecution history, infringement, territoriality): [2022] EWHC 490 (Pat); [2022] EWHC 3034 (Pat); [2023] EWHC 254 (Pat).
Sandoz, Accord, Teva & ors v Bayer (ongoing) – patent revocation and infringement actions relating to once daily dosing for the anticoagulant drug rivaroxaban.
Lufthansa v Panasonic, Astronics & Safran (ongoing) – account of profits arising from the finding of infringement of a patent relating to aircraft in-seat power sockets: [2023] EWHC 1043; [2023] EWHC 1136.
NHS England, Wales & NI v Warner-Lambert – damages inquiry arising from cross-undertakings given in the litigation over the second medical use patent for pregabalin: [2021] EWHC 2182 (Ch); [2022] EWHC 189 (Pat); [2022] EWHC 1856 (Ch).
Geofabrics v Fiberweb – damages inquiry and DNI action arising from the finding of infringement of a patent relating to geocomposite railway trackbed liners: [2021] EWHC 1996 (Pat); [2022] EWHC 2363 (Pat).
Illumina v MGI – multiple patents action concerning DNA sequencing technologies (skilled person, obviousness, priority, plausibility, Regeneron-type insufficiency, collocation, doctrine of equivalents): [2019] EWHC 3767 (Pat), [2020] EWHC 730 (Pat), [2021] EWHC 57 (Pat), [2021] EWHC 361 (Pat); [2021] EWCA Civ 1924.
Trade marks, passing off & copyright
NL Holding v Gordon Murray Automotive (ongoing) – acting for the entity behind the Formula 1 driver Niki Lauda in this passing off and copyright infringement dispute arising from the use of the Niki Lauda name and signature on and in relation to sports cars.
AMC v PMG – High Court trade mark infringement, passing off and breach of contract dispute concerning a fashion brand.
Black Sheep Brewery v Conilon – trade mark and passing off dispute relating to alcoholic beverages and premises selling the same.
Glaxo v Glenmark and Celon – trade mark / passing off dispute concerning the 3D shape of inhalers (3D shape marks, validity, infringement, DNIs); settled shortly before trial.
Education
2018 – 2019: 12 month pupillage at Three New Square to Miles Copeland, Dominic Hughes, Jeremy Heald, Tom Hinchliffe QC and Stuart Baran
2016 – 2018: Outstanding, Bar Professional Training Course; Graduate Diploma in Law – City, University of London
2011 – 2016: First Class Hons, MBiochem Molecular and Cellular Biochemistry – University of Oxford
Inner Temple GDL and BPTC Exhibition Awards, 2016 / 2017
City Law School Academic Scholar, 2016
Mary Lunt Prize in Practical Biochemistry, 2016
St Hugh's College Final Honour School Prize, 2016
Other
2022 – date: editor of IP sections of the White Book
2021 – date: member of the Attorney General's Civil Panel Counsel Junior Juniors Scheme
2021 – date: contributing author to Terrell on the Law of Patents
Privacy Notice
Alice Hart's privacy notice can be found here.
"Alice Hart is brilliant, keen and lovely to work with. What more can you ask for?"

"Alice is extremely thorough and excellent overall, especially in case law and procedure."

"She is a strong pair of hands at the junior end. Alice is clever and dedicated."

Chambers & Partners, 2024
'Alice is very detailed and thorough. She is an excellent team player.'

Legal 500, 2024
"Alice is absolutely excellent and consistently exceeds expectations, providing work products of a very high quality. I have been impressed by her, as she managed cases with great confidence and eloquence."

"I have been really impressed by Alice – she is very hard-working and pleasant to work with, in addition to having encyclopedic legal knowledge."

"Alice Hart has been a great asset to the team. She has worked well with the client and they have been impressed with her work to date. She makes valuable contributions to the strategy of the case."

CHAMBERS & PARTNERS, 2023
More
"One of the best junior barristers at the IP Bar – incredibly smart, with the ability to distil even the most complicated of matters into easily digestible chunks. Very effective cross-examination style – a real rising star."

LEGAL 500, 2023